For most Premier League managers what constitutes success and failure is a pretty straightforward metric.
Should Arsenal embark on a winless streak that plunges them down to mid-table Unai Emery can expect to be placed under the media glare with many viewing his job to be on the line.
If Graham Potter continues to establish Brighton as top ten contenders he will rightfully be praised to the rafters.
Assessing whether they are fulfilling their remit or underperforming is a less defined science at West Ham United however, and that seemingly has been the case for quite a while.
Click here for the next Premier League manager to leave market
There the parameters are pliant, depending on circumstances and sometimes even the general mood of the club and support, and though this can be a curse as much as a blessing for whoever is in charge at the time Manuel Pellegrini will surely take that uncertainty right now. It gives him wiggle room.
Because presently the Hammers are stuck in the most unexpected of ruts having accrued just two points from their last five league games, with an embarrassing trouncing at the hands of third tier Oxford in the EFL Cup only adding to their turmoil.
Performances have become lacklustre and sorely lacking in ideas and this after a productive summer and positive start saw them widely tipped to break into the top six this season.
By rights then the 66-year-old Chilean should be under severe pressure and he is, sort of, but he also isn't. This, remember is West Ham where little is straightforward and even less is clear-cut.
According to tabloid reports this week Pellegrini is beginning to feel the heat at the London Stadium with speculation arising as to his short-term future.
Yet a closer inspection of these articles reveals nothing of substance beyond an over-view of the current situation with a few allusions thrown in regarding fan discontent at his team selections. Move along folks, there is little to see.
Of far more interest is the precarious nature of Mario Husillos's position at the club, the director of football brought in the summer before last on Pellegrini's recommendation.
A close ally of the coach nicknamed 'The Engineer', Husillos's reputation is fast coming off the rails after a failure to sign a central midfielder instead led him to procuring Pablo Fornals, a twinkling creative of the ilk that the Hammers were already well stocked in.
Doubts have been raised over the future of West Ham's Director of Football Mario Husillos.
He faces a fight to retain ultimate responsibility for identifying signings in January. After that, the club may look to review his position. (via
@guardian_sport
)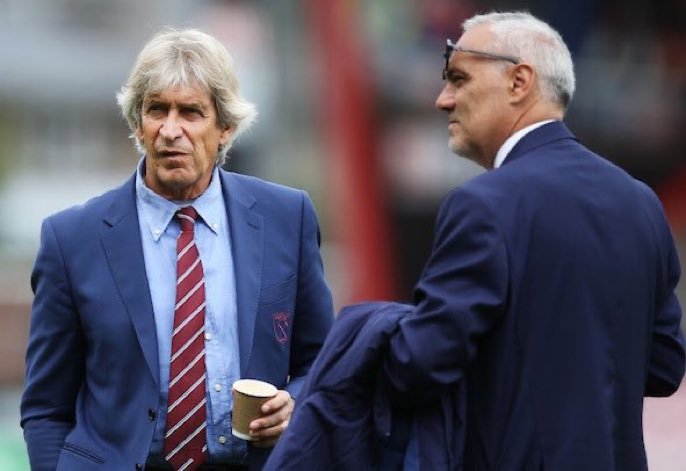 His targeting of Roberto Jimenez hardly helped his cause either, with the Spanish goalkeeper proving to be unreliable to this point.
As for the imminent fate of the former Manchester City title-winning coach, The Guardian were confident enough on Wednesday to state the following:
'Pellegrini is in no danger of being sacked, with West Ham determined to back their manager.'
This figures because it is a principle long-entrenched into the club's DNA to give their manager's time.
In the past decade West Ham have had five different individuals prowling their touchline and this compares favourably to so many of their peers, especially those who have encountered similar vagaries of fortune.
Indeed the patience shown to Pellegrini's immediate predecessors is pertinent here and arguments could be raised that Slaven Bilic and David Moyes might have been moved on sooner had they been working under a more trigger-happy board.
So 'The Engineer' is safe for now it appears despite taking on the reins of a traditionally big club – whatever the hell that means these days – whose move to an enormous new stadium is no longer a hindrance as it was during Bilic's tenure but a significant plus.
Manuel Pellegrini still has West Ham's support after Saturday's defeat to Newcastle. No danger of him being sacked at the moment. There are concerns over tactics and signings, though
#whufc
Despite too inheriting a squad of genuine quality and being afforded £157m to add 16 new players to that group. And lastly, despite all of these benefits resulting in the expectation of a top-six finish where a failure to get close to that target would have most Premier League managers fearing the proverbial P45.
The reason as to why this applies less to the Hammers' coach goes beyond the inherent patience of the club and takes us back to the start.
Because so browbeaten have the supporters been in recent times there is almost a grim acceptance when hopes are dashed and a top-six charge leads to languishing in 13th. They no longer know what constitutes success and failure anymore and the same can be said of the club.
Until they determine that for sure Pellegrini's future in East London is secure for the time being.